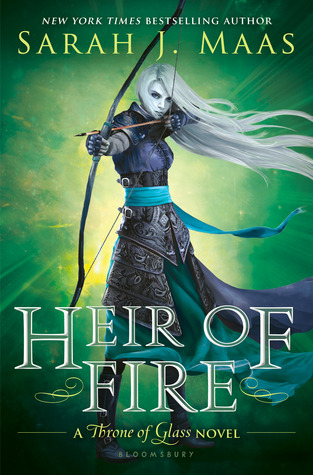 Omg! I love this series. I had high expectations for  Heir of Fire and there were times when I was bothered, I didn't appreciate how the story continued but at the end of the day ignoring my biases, I enjoyed it. This time we get to see a vulnerable side of Calaena and I have to say it was interesting, at times, I found the pace a bit slow but then after finishing the book, I felt that it was essential. There were things that needed time and I think this book sort of gives us that slow, miserable emotion where you can feel that Calaena's trapped. Making endless attempts to regain herself. To remember what her beliefs were and to stand by those. Its like everything we had learned from the previous two books came to an extreme turnover,  and you could sense the other characters trying to grasp and to take control over the change,  it was painful.
The new characters were as interesting as the previous ones. It offers a lot of drama and twisted mysteries. I know, I am just talking endlessly about things you can only understand after actually reading the series. So , the point is that check this one out. For those who have already read the first two books- you won't be disappointed with this one- hopefully.
I think this book was acting like an hourglass for the series,  I believe things will definitely explode in the next part.
Teaser:" To that girl. What are you doing that makes her come in here with such emptiness in her eyes?"
Me:" Yes, what are you doing?"
My Ratings: