Hey everyone!! I haven't been able to post for quite a while now but today I got the chance to post, so here I am….:). Let's start with it then, the book I am going to review today is An Ember In The Ashes by Sabaa Tahir.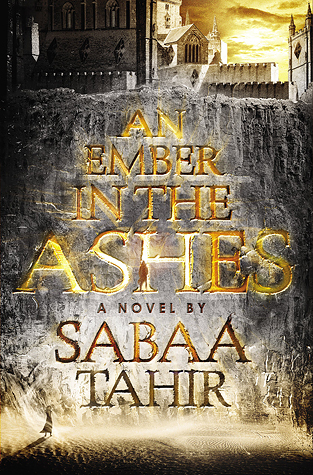 The cover is really cool. Honestly speaking, I got to this book because many readers around me were immensely excited about this book. I heard a lot about it, so, I decided to check it out. It was brilliant, I must say it kept me on my toes the whole time, it showcases a brutal world in ways that really sends shock waves to your soul. An interesting pace with complicated characters. It was a beautiful mesh, of agony and hope. The whole environment, the author has created it is simply unbelievable. There were times, when I literally wanted to go smack them all. One thing for sure is that it isn't your everyday YA. I have read disturbing dystopia's but this one was particularly memorable. There is a little romance in the air, but it isn't the main core of the story so that's something I always love, because it's more about family and realizing what you are and how you see yourself in that particular setting. How you are embracing yourself, in hopes of saving someone- which might be yourself at the end of the day.
Definitely worth the hype, because it tilted my world. In the beginning, I heard it was a stand-alone, so when I completed the book, my jaw was open, because it was such a cliffhanger that I wanted to throw something, wanted to know more:p. Thankfully, now we know that we are going to have a next part, and I am really excited about that. Fingers crossed.
Teaser:
"Life is made of so many moments that mean nothing. Then one day, a single moment comes along to define every second that comes after."
Me: "It's philosophical  :p."
My Rating: