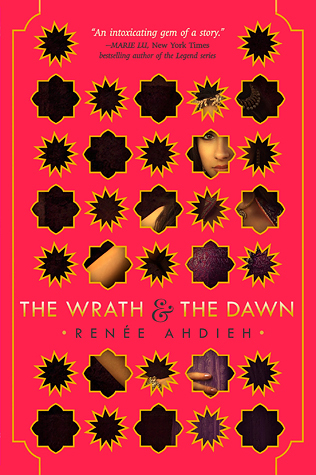 I never thought that I would read The Wrath & The Dawn,  I heard that people enjoyed reading it so, I decided to give it a try. 
In the beginning it took me some time to get into the world, I knew that this was a retelling of A Thousand and One Nights, and I hadn't read the book so I didn't quite know how I would like the new world. I liked the detachment between the protagonists, and loved the fact that she was there to get revenge but with revenge plots you already know that the person ends up falling for the person you are supposed to hate lol. That part of the book was expected but still I had fun with the way things were revealed. For me, I enjoyed the supporting characters love line more, I don't know why, I just did. 😀
The pace of the book was great, there were a couple of things I didn't like. First, was the whole Genie situation of the stories. I just don't like Genie, I was never a fan of Aladdin, so that would clear some things.  Second, was Tariq, I did understand where his character was coming from but his position makes me kind of hate him. He has this slow obsession with our female protagonist which I didn't admire. Its like when you are forcefully attaching yourself when you should just be a friend.  Shahrzad was confused, and I get that this character has to be confused by her emotional state but I would have enjoyed it more if she had taken the lead in situations where she should have. I am not talking about being faithful, but being true to yourself. Its like she wanted to see herself in a foggy mirror. The ending was expected but overall I liked the book.
Teaser:
"My soul sees its equal in you."
My Rating: